Websites Designed for your Business Success
You have something wonderful to share with the world – your ideas, services, products and passion!
Whether you are marketing locally or globally; you want your customers to be able to find you online and on any device.
Your website should reflect the best of your business, invite your visitors to contact you, and encourage your clients to buy from you.
Re-Design and Maintenance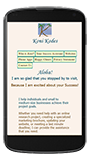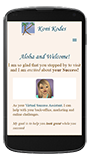 If you already have an online presence, but your site is ready to be updated, I can help. I can take your static site and make it "Google Approved and Mobile Friendly", without having to create a mobile-website that leads off from your desktop site.
I can update the pages that you don't want to change, and still have it fit whatever device it is viewed on. I can add something that you have been wanting but haven't completed yet: such as a Video Platform or a Photo Gallery, or just a new content page.
I can upload to your current hosting site, and you can be "live" with your re-designed website in a very short time.
New Site Creations
I will work with you to help create your site. First, we need to make sure that you purchase a domain name, and have a hosting account. Then, we'll incorporate your current logo, or design a logo if you need it, into your site header and icon.
Tell me your favorite colors, and the feeling that you would like for your visitors to have; such as informal, formal, fun, research and information, or ready to purchase.
Then you tell me what you would like to feature: such as Videos, Music, a Photo Gallery, or a blog.
I'll bring to you the first draft of the design, and we'll go from there. All I ask is that we communicate throughout the entire process, so that I fully understand what you want – or don't want. Once you are happy with your new site design, I will begin Koding it, and then upload it to your hosting account.